a SMARTSource3 Solutions Partner
Georgia Business Office & Meeting / Training Facility Solutions
Business Office & Meeting Facility Solutions:

About Us

Virtual Assistant Solutions
RealNova Presents WebTech Institute's Staffing Services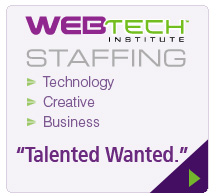 Corporate Staffing
WebTech Institute Staffing is a division of WebTech Institute, Inc., located in metropolitan Atlanta, Georgia in close proximity to Atlanta Hartsfield-Jackson International Airport. Our company has been in existence since 2003 and has always been a part of the tech revolution.

Our staffing division offers a wealth of talent for the Atlanta area and all of the United States. Currently our talent pool consists of web, technical, creative, and management skillsets. Our professionals deliver above standard performance and are always screened to ensure you receive the best in talent.

We encourage you to contact us and allow our team of recruiters to assess your needs and present you with the ideal candidates for employment or contract opportunities.




Computer Based After School Program - Computer Based IT Curriculum - Home School Curriculum - Home School Technology Program - Technology Program For Home Schoolers - Technology Based After School Program - Technology Summer Program - IT Summer Program - Interactive Technology Program For After School - Interactive IT After School Program - Global Technology After School Program - Technology Based Home School Curriculum - IT Summer Program For Kids - Kids Technology Based Curriculum - Global Distrubutor For WebTech Kids - Boys Club IT After School Program - Boys & Girls Club Technology After School Program - Boys & Girls Club Technology Summer Program - Boys & Girls Club Technology After School Program - Technology After School Program Developed For YMCA - IT After School Program Developed For YMCA - Technology After School Program Developed For Boys & Girls Club - IT After School Program Developed for Boys & Girls Club - National Technology After School Program Development for Board of Education - Global Technology Afterschool Program Developed for Churches - International Technology After School Program RealNova - Computer Based After School Program - Computer Based IT Curriculum - Home School Curriculum - Home School Technology Program - Technology Program For Home Schoolers - Technology Based After School Program - Technology Summer Program - IT Summer Program - Interactive Technology Program For After School - Interactive IT After School Program - Global Technology After School Program - Technology Based Home School Curriculum - IT Summer Program For Kids - Kids Technology Based Curriculum - Global Distrubutor For WebTech Kids - Boys Club IT After School Program - Boys & Girls Club Technology After School Program - Boys & Girls Club Technology Summer Program - Boys & Girls Club Technology After School Program - Technology After School Program Developed For YMCA - IT After School Program Developed For YMCA - Technology After School Program Developed For Boys & Girls Club - IT After School Program Developed for Boys & Girls Club - National Technology After School Program Development for Board of Education - Global Technology Afterschool Program Developed for Churches - International Technology After School Program RealNova - Computer Based After School Program - Computer Based IT Curriculum - Home School Curriculum - Home School Technology Program - Technology Program For Home Schoolers - Technology Based After School Program - Technology Summer Program - IT Summer Program - Interactive Technology Program For After School - Interactive IT After School Program - Global Technology After School Program - Technology Based Home School Curriculum - IT Summer Program For Kids - Kids Technology Based Curriculum - Global Distrubutor For WebTech Kids - Boys Club IT After School Program - Boys & Girls Club Technology After School Program - Boys & Girls Club Technology Summer Program - Boys & Girls Club Technology After School Program - Technology After School Program Developed For YMCA - IT After School Program Developed For YMCA - Technology After School Program Developed For Boys & Girls Club - IT After School Program Developed for Boys & Girls Club - National Technology After School Program Development for Board of Education - Global Technology Afterschool Program Developed for Churches - International Technology After School Program RealNova - Computer Based After School Program - Computer Based IT Curriculum - Home School Curriculum - Home School Technology Program - Technology Program For Home Schoolers - Technology Based After School Program - Technology Summer Program - IT Summer Program - Interactive Technology Program For After School - Interactive IT After School Program - Global Technology After School Program - Technology Based Home School Curriculum - IT Summer Program For Kids - Kids Technology Based Curriculum - Global Distrubutor For WebTech Kids - Boys Club IT After School Program - Boys & Girls Club Technology After School Program - Boys & Girls Club Technology Summer Program - Boys & Girls Club Technology After School Program - Technology After School Program Developed For YMCA - IT After School Program Developed For YMCA - Technology After School Program Developed For Boys & Girls Club - IT After School Program Developed for Boys & Girls Club - National Technology After School Program Development for Board of Education - Global Technology Afterschool Program Developed for Churches - International Technology After School Program RealNova - Computer Based After School Program - Computer Based IT Curriculum - Home School Curriculum - Home School Technology Program - Technology Program For Home Schoolers - Technology Based After School Program - Technology Summer Program - IT Summer Program - Interactive Technology Program For After School - Interactive IT After School Program - Global Technology After School Program - Technology Based Home School Curriculum - IT Summer Program For Kids - Kids Technology Based Curriculum - Global Distrubutor For WebTech Kids - Boys Club IT After School Program - Boys & Girls Club Technology After School Program - Boys & Girls Club Technology Summer Program - Boys & Girls Club Technology After School Program - Technology After School Program Developed For YMCA - IT After School Program Developed For YMCA - Technology After School Program Developed For Boys & Girls Club - IT After School Program Developed for Boys & Girls Club - National Technology After School Program Development for Board of Education - Global Technology Afterschool Program Developed for Churches - International Technology After School Program RealNova - Computer Based After School Program - Computer Based IT Curriculum - Home School Curriculum - Home School Technology Program - Technology Program For Home Schoolers - Technology Based After School Program - Technology Summer Program - IT Summer Program - Interactive Technology Program For After School - Interactive IT After School Program - Global Technology After School Program - Technology Based Home School Curriculum - IT Summer Program For Kids - Kids Technology Based Curriculum - Global Distrubutor For WebTech Kids - Boys Club IT After School Program - Boys & Girls Club Technology After School Program - Boys & Girls Club Technology Summer Program - Boys & Girls Club Technology After School Program - Technology After School Program Developed For YMCA - IT After School Program Developed For YMCA - Technology After School Program Developed For Boys & Girls Club - IT After School Program Developed for Boys & Girls Club - National Technology After School Program Development for Board of Education - Global Technology Afterschool Program Developed for Churches - International Technology After School Program RealNova - Computer Based After School Program - Computer Based IT Curriculum - Home School Curriculum - Home School Technology Program - Technology Program For Home Schoolers - Technology Based After School Program - Technology Summer Program - IT Summer Program - Interactive Technology Program For After School - Interactive IT After School Program - Global Technology After School Program - Technology Based Home School Curriculum - IT Summer Program For Kids - Kids Technology Based Curriculum - Global Distrubutor For WebTech Kids - Boys Club IT After School Program - Boys & Girls Club Technology After School Program - Boys & Girls Club Technology Summer Program - Boys & Girls Club Technology After School Program - Technology After School Program Developed For YMCA - IT After School Program Developed For YMCA - Technology After School Program Developed For Boys & Girls Club - IT After School Program Developed for Boys & Girls Club - National Technology After School Program Development for Board of Education - Global Technology Afterschool Program Developed for Churches - International Technology After School Program RealNova - Computer Based After School Program - Computer Based IT Curriculum - Home School Curriculum - Home School Technology Program - Technology Program For Home Schoolers - Technology Based After School Program - Technology Summer Program - IT Summer Program - Interactive Technology Program For After School - Interactive IT After School Program - Global Technology After School Program - Technology Based Home School Curriculum - IT Summer Program For Kids - Kids Technology Based Curriculum - Global Distrubutor For WebTech Kids - Boys Club IT After School Program - Boys & Girls Club Technology After School Program - Boys & Girls Club Technology Summer Program - Boys & Girls Club Technology After School Program - Technology After School Program Developed For YMCA - IT After School Program Developed For YMCA - Technology After School Program Developed For Boys & Girls Club - IT After School Program Developed for Boys & Girls Club - National Technology After School Program Development for Board of Education - Global Technology Afterschool Program Developed for Churches - International Technology After School Program RealNova - Computer Based After School Program - Computer Based IT Curriculum - Home School Curriculum - Home School Technology Program - Technology Program For Home Schoolers - Technology Based After School Program - Technology Summer Program - IT Summer Program - Interactive Technology Program For After School - Interactive IT After School Program - Global Technology After School Program - Technology Based Home School Curriculum - IT Summer Program For Kids - Kids Technology Based Curriculum - Global Distrubutor For WebTech Kids - Boys Club IT After School Program - Boys & Girls Club Technology After School Program - Boys & Girls Club Technology Summer Program - Boys & Girls Club Technology After School Program - Technology After School Program Developed For YMCA - IT After School Program Developed For YMCA - Technology After School Program Developed For Boys & Girls Club - IT After School Program Developed for Boys & Girls Club - National Technology After School Program Development for Board of Education - Global Technology Afterschool Program Developed for Churches - International Technology After School Program RealNova - Computer Based After School Program - Computer Based IT Curriculum - Home School Curriculum - Home School Technology Program - Technology Program For Home Schoolers - Technology Based After School Program - Technology Summer Program - IT Summer Program - Interactive Technology Program For After School - Interactive IT After School Program - Global Technology After School Program - Technology Based Home School Curriculum - IT Summer Program For Kids - Kids Technology Based Curriculum - Global Distrubutor For WebTech Kids - Boys Club IT After School Program - Boys & Girls Club Technology After School Program - Boys & Girls Club Technology Summer Program - Boys & Girls Club Technology After School Program - Technology After School Program Developed For YMCA - IT After School Program Developed For YMCA - Technology After School Program Developed For Boys & Girls Club - IT After School Program Developed for Boys & Girls Club - National Technology After School Program Development for Board of Education - Global Technology Afterschool Program Developed for Churches - International Technology After School Program